2015 Lake Hope Race Report
Lake Hope, the second race in this year's Spring Race series, always promises challenging parcours and usually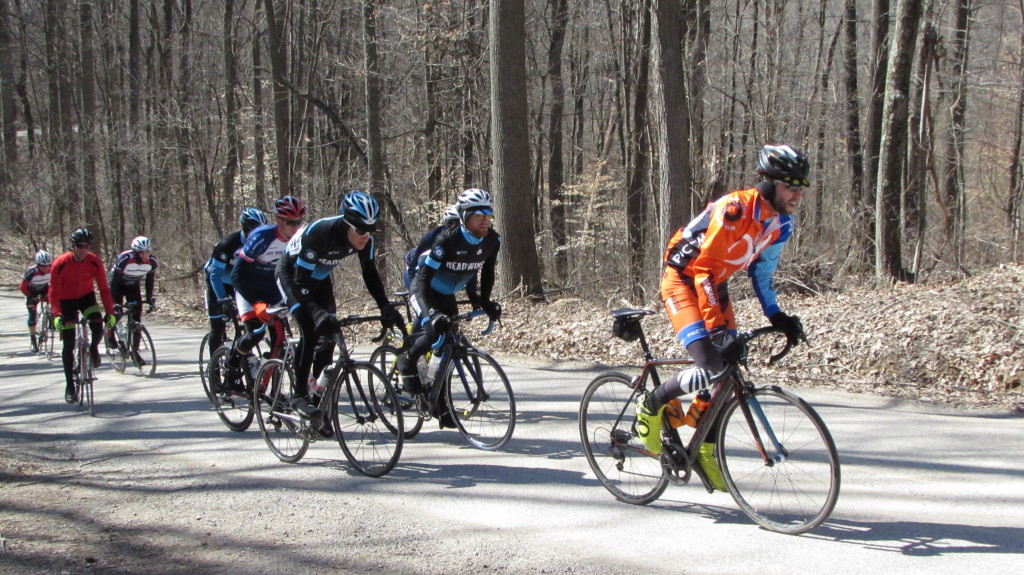 brings with it wet roads and cold temperatures. This year's edition graced us with clean and dry roads but brutally cold temps, with the thermometer hovering around 15° at staging as a group of 25 to 30 riders took the line.
OSRS #2 Lake Hope Road Race
After the whistle blew, we took off for two laps of a hilly 20-mile course. Lap one saw a rider break off the front on Mine Hollow Road (the first of two major climbs) and hang there for nearly the entire lap. The pack stayed huddled together (probably for warmth), and didn't seem too keen on immediately chasing. The group eventually reeled him in as we turned down the long finishing straight, and Mike decided to take a flyer to see if anyone would chase. No takers. He eventually made his way back to the group in time for the second climb up the two-mile Mine Hollow Road.
Neil, Dave, and Steve went over the top close to front, and Neil descended in second position. A small gap opened with two other riders, but the main field eventually closed it down and the group came back together. This was the time another solo rider chose to take off. The pack took their time getting the chase organized, and by the time Steve and Neil took the front to work, the rider was gone. It was too late to attempt a catch and we were racing for second. Steve created a small lead as we approached the second climb of 2-Mile Road, but what was left of the main field was bearing down on him. Neil dropped off, his work done, and let Steve and Dave ride off in search of glory.
Headwind ended the day with Steve taking 5th, Dave finishing in 8th spot, and Neil coming in with the stragglers off the main field in 13th. Mike finished a solid 20th, a great showing and one of his best performances at Lake Hope, and Dan crossed the line in 25th, a tough day for everyone.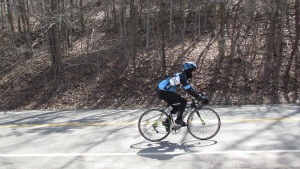 In all, a solid second race for Headwind. Lessons learned: it's all about conserving energy, but sometimes the smart strategy is to take a few risks.
View the official race results here.